WK Lo's LegCo Express (July 2021)
W K LO's LegCo Express
July 2021
1.

Funding projects approved in the FC
On 9 July, funding of several public works projects was approved in the FC, including $558.2 million for the development of town park in Area 68, Tseung Kwan O, $318.3 million for the development of Kwai Chung Park, $266.7 million for the development of open space at Hung Hom Waterfront, and $196.1 million for the development of open space at Hoi Fan Road, Tai Kok Tsui. On the same day, the allocation of $36.8 billion was approved to construct a new acute hospital at Kai Tak Development Area, $2.1 billion to expand North District Hospital and $408.4 million to expand Lai King Building in Princess Margaret Hospital.
2.

AVSECO Canine Unit Kennel Unveiled at HKIA
As board chairman of the
Aviation Security Company Limited (AVSECO), I officiated at the opening ceremony of the new Canine Unit Kennel at Hong Kong International Airport (HKIA) on 13 July. The opening of the facility marks the official deployment of AVSECO's Canine Unit to further enhance airport security. The ACU will strengthen the capability of AVSECO in respect of detecting explosives, firearms and ammunition. Located inside the restricted area of HKIA, the two-storey kennel was specifically designed to house individual resting blocks for each canine, grooming and quarantine facilities, and an indoor training area for canines' daily living and exercise.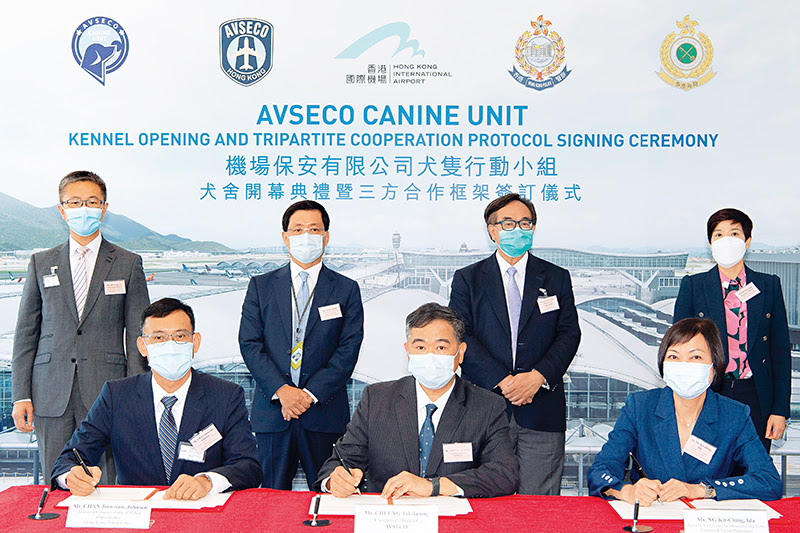 3.

Raised a question regarding measures to cope with the epidemic
At the LegCo meeting on 7 July, I asked the Government whether it has set up a mechanism for reviewing the pros and cons of adjusting the various social distancing measures; whether it has assessed if the current testing capacity in Hong Kong is sufficient to cope with sudden and huge demand for testing involving virus variants; and whether it will enhance the function of the "LeaveHomeSafe" mobile application. Please use this link to view my question and the Government's reply:
4.

Raised a question regarding "LeaveHomeSafe" mobile app and electronic vaccination records
At the LegCo meeting on 14 July, I asked the Government whether it will plug the loophole in the "LeaveHomeSafe" mobile app and incorporate identity authentication and tracking functions in the "LeaveHomeSafe" application; whether it will establish a mechanism for mutual recognition of the electronic vaccination records between the Mainland and Hong Kong. Please use this link to view my question and the Government's reply:
5.

Raised a question regarding "iAM Smart" mobile application
At the LegCo meeting on 14 July, I asked the Government if it will allocate additional resources for consolidating and enhancing the various online services provided through "iAM Smart"; whether it will study the establishment of an electronic payment channel in which the authentication of identity can be made through "iAM Smart"; and whether it will discuss with the Governments of the Guangdong Province and Macao allowing those Hong Kong people who are receiving education, working and living in the Mainland cities of the Guangdong-Hong Kong-Macao Greater Bay Area to carry out operations such as authentication of identity and digital signing through "iAM Smart" when using online services. Please use this link to view my question and the Government's reply:
6.

Raised a question regarding encouraging members of public to receive vaccination
At the LegCo meeting on 21 July, I asked the Government if it will set up a unified platform to enable members of the public to participate in the reward programmes they prefer by filling in their personal data just once and assist the organisations which organise the reward programmes in verifying the eligibility of the winners; and whether the Government will distribute tickets or souvenirs of local sports matches to persons who have completed a COVID-19 vaccination course. Please use this link to view my question and the Government's reply: